If you're looking to improve the customer experience at your business, whether you work in retail or the restaurant industry consider investing in cloud-based solutions and software. With these tools, you can manage everything from reservations and call center operations to online ordering and eCommerce. By streamlining your processes and making information more accessible, you can provide a better overall experience for your customers.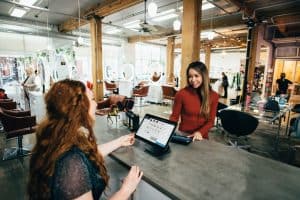 Defining the Customer Experience 
The customer experience has become the cornerstone of success for businesses in the modern economy. Defined as a customer's holistic perception of their interaction with a business, it encompasses every stage of a potential or existing customer's journey. This includes all marketing, communication, sales practices, and product delivery as well as any moments where a company may be prompting feedback from them. 
Companies need to have an acute awareness of the customer experience at every stage and work to ensure consistency in doing so. By doing this effectively, businesses can promote trust in customers and build long-term relationships that benefit both parties. Additionally, understanding the importance of the customer experience can open up companies to new potential growth sources by looking for new avenues for engagement with customers in innovative ways.
What is Cloud Based Software?
Cloud-based software is a type of technology that allows businesses to access applications and data remotely from any device with an internet connection. This type of solution provides a more cost-effective option for companies looking to scale up their customer service operations without having to invest in additional infrastructure or personnel. 
Cloud-based solutions also offer enhanced flexibility as they can be accessed from anywhere with an internet connection, and they are easy to update or modify as needed. Additionally, cloud-based software typically comes equipped with features such as analytics dashboards, automated ticketing systems, and live chat capabilities which can help businesses further streamline their customer service processes. 
Overall, cloud-based software provides an excellent way for companies to improve their customer support operations while keeping costs down. With the right cloud solutions in place, businesses are well-positioned to provide their customers with the highest level of service possible.
What Customers are Looking For
In the event a customer has an issue with products or services rendered, what are they looking for when they contact your business? When customers talk to a customer service representative or an employee of a business, they are looking for help, information, and support. They want the individual on the other end to be professional and knowledgeable about their products and services.
Customers also want to feel like their concerns regarding problems or issues are being taken seriously and addressed promptly. Most importantly, they expect courteousness and respect when interacting with these individuals. By providing customers with an experience that validates what they're feeling at the time, it can lead them to have positive opinions regarding the company itself, ultimately leading to further satisfaction and continued patronage.
Whether they get this ideal experience in person, such as when they walk into your restaurant, or while placing an online order, it's imperative.
Tips for Creating a Positive Customer Experience Strategy
Invest in modern customer service solutions such as cloud-based software.

Appoint knowledgeable customer support experts to handle inquiries promptly and efficiently.

Utilize analytics dashboards to monitor customer sentiment and gain insight into how people are using your product or service. 

Take advantage of automated ticketing systems to streamline customer service processes and respond more quickly to inquiries. 

Implement live chat capabilities so customers can easily communicate with your team in real-time. 

Provide clear guidelines on the expected level of customer service across all departments of your business, including sales and marketing teams. 

Prioritize customer feedback and act upon it quickly to ensure that any issues are addressed promptly. 

Personalize your customer experience by offering custom services and tailored customer support solutions that meet their individual needs. 

Encourage customers to provide reviews and ratings, as this can help build trust with current and potential customers. 

Use customer feedback to inform changes and improve the overall customer experience strategy going forward.
Why Cloud-Based Solutions are Ideal for Enhancing the Customer Experience
Cloud-based solutions offer numerous advantages for enhancing the customer experience. These solutions allow businesses to access powerful tools and resources, creating opportunities for creative and innovative customer experiences that were otherwise not available. Companies can easily scale up their operations as needed, enabling them to quickly react to changes in market demand. 
Additionally, cloud solutions provide customers with timely updates on new products and services, which can drastically improve satisfaction levels. Ultimately, business owners who embrace cloud-based solutions can have an edge over competitors when it comes to customer experience. Cloud-based software is revolutionary in its ability to give business owners the necessary tools they need to optimize the customer journey while also minimizing costs and the difficulty of implementation.
How Cloud-Based Customer Support Services Help Businesses
Besides leaving your customers satisfied with the results of an encounter, how do cloud-based customer support services help businesses overall? 
Using software to improve customer service interactions is a great way to ensure that customers feel valued and supported. By creating streamlined processes for customer engagement, such as for reservations for fine-dining experiences at high-demand restaurants such as Libertango just outside of Salt Lake City, Utah, companies can spend less time gathering information and more time responding immediately. Software programs allow companies to easily keep track of customer inquiries across multiple channels and respond proactively when needed. 
Also, many software solutions come with the ability to quickly create automated responses based on frequently asked questions, which can minimize wait times for customers. Your solutions should also reveal insights into how customers interact with employees or AI software. With this data at hand, businesses can better tailor their services and create more effective solutions for customers. Additionally, call center software helps improve response times by connecting agents to customers more quickly and efficiently.
With the right software in place, customer service departments can become much more efficient and deliver an elevated experience to customers.
Key Features of Cloud-Based Software That Businesses Need
Xima software solutions help businesses scale Contact Center as a Service (CCaaS) software to provide smooth interactions with customers. Some of the key features that stand out include:
Skills-Based Call Routing

Supervisor Control

Queue Callback / Callback Assist

Web Chat
Companies should be sure to regularly review the performance of their customer service team and software and make changes as needed to continually improve the customer experience. Implementing customer feedback surveys, conducting regular training sessions, and consistently evaluating performance are just a few of the steps that businesses can take to ensure that their customer service is up to par. By investing in the customer service experience, companies will be able to make sure that customers remain satisfied and loyal for years to come. 
If you're not sure which provider to invest in, look for companies that provide demos so you can see how the solutions integrate into your business.